Clash of Clans, the popular strategy game; keeps its player busy with fun events every week. Recently, the Color Fest event was started which will last the whole month of March. A roadmap of this event was posted on the official Twitter page of Clash of Clans.
Overview
At the start of this month, a new gold pass came and this one was kind of different from previous gold passes. Usually, Clash of Clans; adds a Hero Skin at the last tier of Gold pass but this time you will be getting the brand new painter scenery.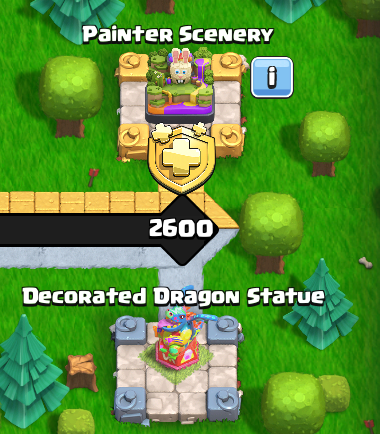 The normal tier of the Gold pass usually hands over a Book of Heroes though this time Book of Heroes has moved to the second-last spot. You will be getting the new Dragon Statue as the final tier of the normal monthly pass.
That's not all, we have brand new Painter Skin for all of our heroes. You can either buy them in a bundle that costs a little more or you can buy the legendary Painter King Skin alone. The Painter Skins are right on the spot before Easter though it seems like Clash of Clans is trying to be neutral by naming the month as Color Fest.
Color Fest Roadmap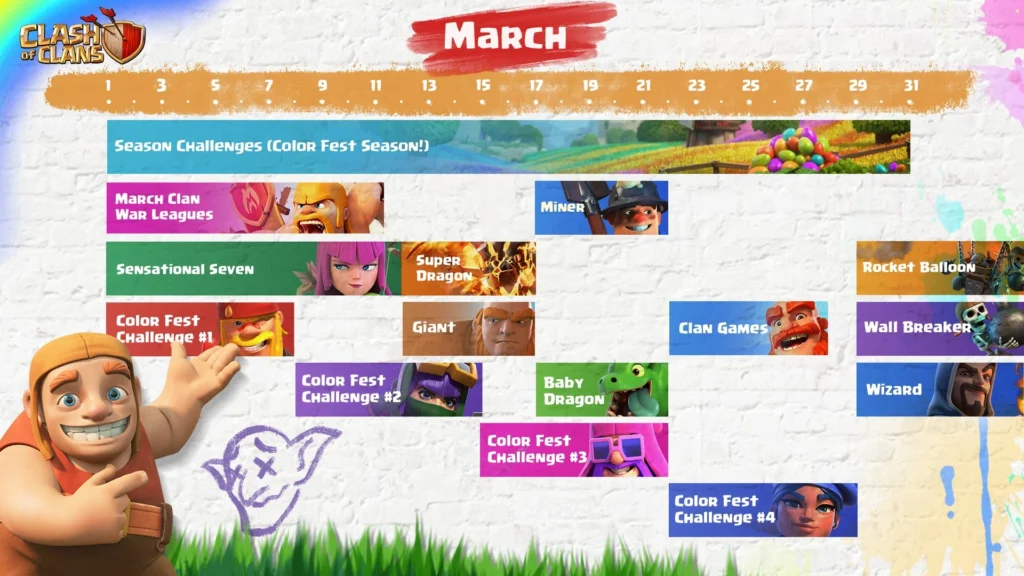 We will be seeing multiple season challenges the whole month of March. This has kicked off with the "Painter King Challenge". We will have a total of four challenges in the month of March. The second challenge will start on 8 March and will end on 15 March. The third one will start on 15 March and end on 22 March and the last one after that till the end of the month of March.
March Clan War leagues have already started and will last for eleven days. Sensational Seven is another season event that is already live in the game. From 12 to 17 March, we will be having a Giant and Super Dragon Event. From 17 to 22 we will be having a Miner and Baby Dragon event. After that, there will be March Clan games with some tasty rewards and then they will end the month with 3 new events about Rocket Balloons, Wizards, and Wall Breakers.
There are reports of a Builder Base 2.0 update in April. Clash of Clans usually drops a Spring Update in April, which is considered one of the big updates. They have already teased a big revamp of Builder Hall in their recent blog post. They are also planning to add Builder Hall 10 but that doesn't fit with their plans of making the Builder Base smaller and more competitive. 
Spring updates are usually massive ones so I doubt that only Builder Base will be their priority. They will be bringing new stuff to the main village; possibly for Town Hall 15. Town Hall 15 has a lot of room for new defense levels, especially for Scattershots, Eagle Artillery, and the rest of the defenses. We will be seeing an increased number of higher-level walls too.