Christmas Trees in Clash of Clans are popularly referred to as Clashmas Trees. Each year, as Christmas approaches, these trees make their appearance, featuring a distinctive texture and model.
Players have the option to remove these Christmas Trees by using gold, and upon their removal, players are rewarded with a substantial amount of gold.
The cost to remove a Christmas Tree typically requires 25,000 gold, and the process takes around 30 seconds. Once the tree is successfully removed, players earn 5 XP and receive a generous sum of 75,000 gold.
From 2012 to 2022, Clash of Clans has introduced a total of 11 Christmas trees. Every year, a new Christmas Tree is added to the game with a fresh texture and appearance.
2012's Christmas Tree

The first Christmas Tree made its debut in Clash of Clans back in December 2012. This tree featured a simple texture, resembling the typical Christmas trees found in many households.
2013's Christmas Tree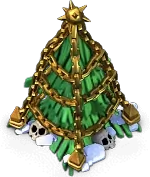 In December 2013, the second Christmas Tree was introduced in Clash of Clans. This tree stood out with a star placed on its top and was decorated with vibrant lights, creating a festive ambiance.
2014's Christmas Tree

The Christmas Tree of 2014 is widely regarded as one of the finest in Clash of Clans. Its decorations were truly remarkable, captivating players with their astonishing beauty.
2015's Christmas Tree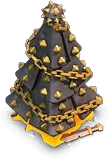 The Christmas Tree introduced in December 2015 had a rather lackluster appearance. Its black and yellowish texture, unfortunately, detracted from its overall charm, leaving it with a somewhat dull and unappealing look.
2016's Christmas Tree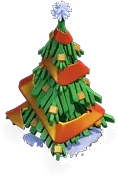 Compared to the Christmas Tree of 2015, the one added in 2016 was a significant improvement. It beautifully captured the essence of Christmas, exuding a delightful festive atmosphere.
The tree was skillfully decorated with various items, and a pristine white snowflake gracefully adorned its top, adding an extra touch of elegance.
2017's Christmas Tree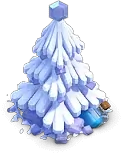 In December 2017, Clash of Clans introduced a unique Christmas Tree that showcased a captivating transformation. This particular tree was completely enveloped in a blanket of snow, lending it a distinct and enchanting appearance.
The snowy covering gave it a different and memorable look, setting it apart from the previous Christmas Trees in the game.
2018's Christmas Tree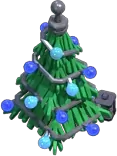 In 2018, Clash of Clans unveiled another astonishing model of the Christmas Tree. This version was decorated with a captivating arrangement of blue and light blue lights, creating a mesmerizing visual spectacle.
At the top of the tree, there was a distinctive black rod-like feature, adding an intriguing touch to its overall design.
2019's Christmas Tree

The Christmas Tree introduced in 2019 stood out as one of the most remarkable trees in terms of texture. It featured a captivating light blueish snowy appearance, evoking a sense of wintry enchantment.
Decorated with multiple lights, the tree sparkled with a delightful radiance. At its crown, a beautiful snowflake increased the overall charm and elegance of this exceptional Christmas Tree.
2020's Christmas Tree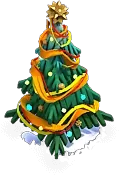 The Christmas Tree introduced in 2020, also known as "Corona Days," emerged as one of the most exquisite trees in Clash of Clans. It featured a unique design that reflected the spirit of the times.
The tree was decorated with a graceful cloth draping around its branches, creating an alluring visual effect. Numerous lights illuminated its presence, casting a warm and festive glow.
Topping off its splendid appearance was a beautiful and eye-catching tree topper. Overall, this Christmas Tree exemplified the beauty and resilience during the challenging times of the year.
2021's Christmas Tree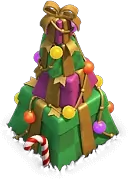 In the Christmas season of 2021, Clash of Clans introduced a Christmas Tree that showcased a distinctive appearance, unlike any previous trees.
This particular tree resembled a gift box shaped like a Christmas Tree, adding a whimsical touch to its design. It was well-decorated and had an eye-catching appearance that captivated players.
The unique and innovative concept of this tree made it a standout feature of the holiday season in the game.
2022's Christmas Tree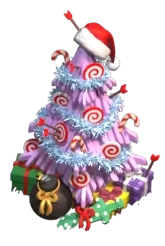 The last Christmas Tree added to Clash of Clans during the Christmas of 2022 showcased the most remarkable appearance. It featured a striking combination of white and reddish textures, evoking a festive atmosphere.
On the top of the tree, a cheerful Santa hat was placed, enhancing its holiday charm. Surrounding the tree were multiple gifts, further accentuating the joyful spirit of the season.
Additionally, arrows were sticking out of the tree, adding a playful and whimsical element. Overall, this Christmas Tree had a magnificent design, embodying the essence of Christmas celebrations in Clash of Clans.
And thus, our list of all the Christmas Trees comes to a close. As we eagerly await the arrival of December in 2023, we anticipate the unveiling of yet another unique and captivating Christmas Tree in Clash of Clans.
We encourage you to share your thoughts and preferences in the comments section regarding your favorite Christmas Tree from the game. Let the anticipation build as we look forward to discovering the special charm that this year's Christmas Tree will bring.